Alakmalak Technologies was founded in 2006. We are a professional website and mobile app design and development company. The company's mission is to help small and medium-sized businesses, by creating their website and mobile application. We at the end goal help you to grow your business, so that you can focus on your core work of managing the business. You can partner with us, so that we can come together and successfully carry out this mission.
Option 1
Resell our Services
With our

( Alakmalak )

Name
Earn from the order value
Advantages
Refer customers to us and earn referral commissions
Preset us as your tech partner and we shall do pre and post sales
No technical skills or knowledge required
Partner Contract Agreement for better transparency
You can focus on your job or other business
Suitable for the users who are IT Managers or on Managerial Position, Users who have good geographical network
Option 2
Resell our Services
With

Your Brand Name

We will rename ANONYMOUS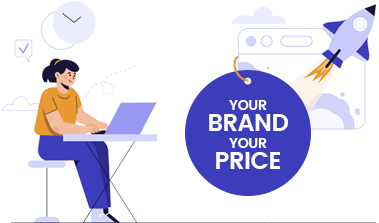 Advantages
Suitable for SMEs, Logo and Branding or Graphic design Agencies, Media Agencies, IT or Hardware businesses, IT agencies who wants to outsource their work
Bring us customer or their requirement and we will provide you the price quote. You either add your margin or we give you the commission
100% confidential and NDA contract
You can increase your portfolio by showing the work we have done for your customers. We never show or display our identity
Cost affective services and discounted pricing
Expert Suggestions from our experienced and skilled resources
Multiple sectors we have partnered with
Alakmalak Technologies has been successfully working in the field of website design and development over the period, and various companies from multiple sectors have been our partners. Whether you are from a marketing agency or a PR firm, we can help you make a difference in your online presence. We believe our long-term partnership may result in multiple benefits for both of us.
Web Development Companies

Design Agencies

Internet Marketing Agencies

Media Firms

PR Firms

Business Consultants
Benefits
Make Alakmalak Technologies your reliable technology partner
Expert & Professional Services

We have experts who can offer your clients the state of the art services.

Dominate The Competition

We can help your clients to build a website that can dominate the market competition which either helps you generate leads or can have you create backend processes such that they are easy for even non-tech teams to operate.

Get prioritize Service After Partnering With Us

Once you become our partner, we would provide you with prioritized support and consultation required for you to grow strategically.
What You Get
No charge if there is no project - We don't charge money if there are no new projects to work on.
Get our expertise - We have 17+ years of expertise in the field and knowledge of the latest technologies.
Latest Technology Services - We offer services that use the latest technologies and are in high demand.
Quality and support - We offer quality service and if you need help, we have a support system in place.
Find Specialist ASAP - Our HR team can help you find specialists in a very short span of time.
White labeling and NDA - Offer white labeling and NDA to make your projects remain private.
Get free
quote now
You will receive quote within 24 hrs
Services
What our client says?